---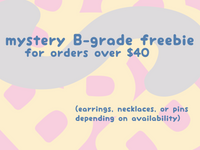 You can add ONE mystery B-grade freebie item to your cart if your subtotal is over $40CAD.

✦ Please only add this item to your cart if the subtotal of your order (before S/H + taxes) is over $40CAD (approx $32USD)!

✦ You won't be able to choose the specific item, but you can choose the type (a necklace, a pair of earrings, or a pin).

✦ Maximum freebie per order is 1.

These items do not meet my standard for selling. Sometimes the color is just a bit off from what I usually make, or other times there might be an air bubble or other blemish on the surface.

Please don't be upset if you do not like the item, but embrace the mystery! Hopefully you'll like it or you have a friend in mind who could give the mystery item some love!